Contents:

Resetting Your Password
Go to the DioConnect login page and click Reset the Password as marked in red on the image below.




Enter the Email address which you have registered with the School (or you can enter your unique ID number) and click on the green continue button.




The following screen will appear. Please check you email and enter the reset code (an 8 digit number) in the Verification Code box.




Change your password on this page (it needs one capital letter, one number and one symbol, must be at least 8 characters long and cannot include any part of you name).


Logging in as a Parent
Go to https://dioconnect.diocesan.school.nz/.
At the login screen use the default email address we hold on record or your unique ID number as the Username and enter your Password in the second box.
Click Sign In.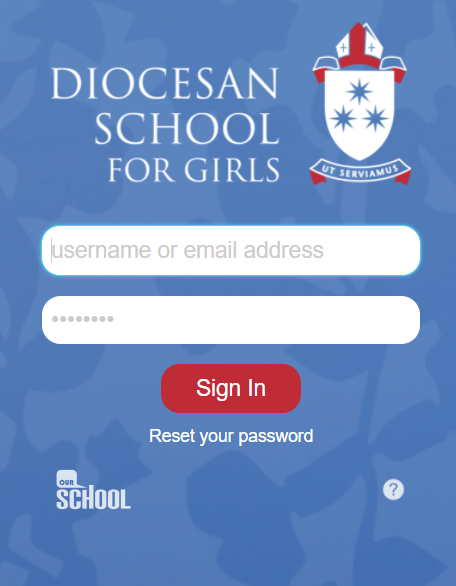 You will know if you are signed in as a parent because the system will have put your name in the opening screen along with Good Afternoon or Good Morning as per the image below. If the name is not yours you are most likely signing in as your partner or daughter. In which case you will need to click on the profile photo in the top right and choose Logout. Once back at the login screen try again. If you still have no luck you will need to use the instructions above to reset your password.

Logging in as a Student
Students log in using their unique ID number and password. If they have problems logging in using those details they need to contact the ISS Department using the contact details below.
When a student is correctly logged in they will see the greeting Good Afternoon or Good Morning, their name, and their timestable or class list as per the image below.

Further Assistance
For training, help files and support on our software systems
For technical help
Visit the ISS Helpdesk in C1.29 between 8.00am and 4.30pm (Monday-Friday).
Call the ISS Helpdesk on +64 9 520 9230 between 8.00am and 4.30pm (Monday-Friday).
Email helpdesk@diocesan.school.nz and one of the ISS Team will be in touch.